Big Brother Slots Review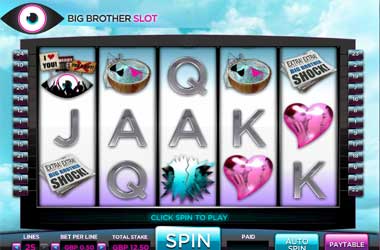 Big Brother is a fast paced online slots game featuring 5 spinning reels and 25 paylines of maximum entertainment value.
This game caters to high-rollers and low-rollers alike with minimum bets starting at £0.01 per line. The max bet per payline is £5 with total bets valued at £0.25 or £125 respectively. The greater your wager, the bigger the payouts in Big Brother slots.
3D animation, classic audio-visuals and many familiar Big Brother symbols adorn the spinning reels in the game. The Wild is showcased by the Big Brother symbol and the Scatter is represented by shimmering Black Eye symbol.
The game certainly delivers on all fronts with images of the Big Brother house, secret footage of kissing couples, hidden cams and hot tubs.